Every fall, I get my bow hunting clothes prepped, my bowstring tightened, and I search for extra hats and gloves to throw in my truck. I like to think of myself as a diehard bow hunter who stays out from sun up to sun down…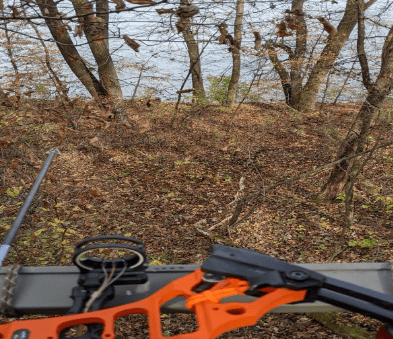 But that wasn't always the case. I'd get cold, wet, and tired from shivering, go back to my truck and tell myself to warm up and go back out. How do I warm up in wet gear? I don't… unless I dry them or replace them.
We can't drag the dryer out to the woods with us, now can we?
What if we could? What if we could pack the dryer in the truck to help keep gear dry when we need it most?
Now we all can with the MobilDri 12-volt glove dryer. Having this on all my bow hunts is a total game-changer. It not only dries gloves, but it's the best boot dryer out there too.
What comes with MobilDri?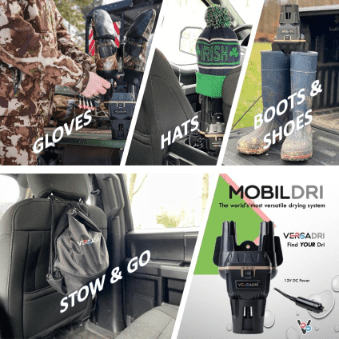 This compact portable boot dryer comes in a drawstring bag, making it easy to carry and pack for any travel situation. The Premier Package of boot dryers comes with the following:
The portable dryer base with a 12-volt plug-in

a 40# Santoprene-covered magnet on the bottom to attach to any metal surface (surface safe from scratches)
a compact size to fit in a typical-sized cup holder
a tab on the side for hanging the dryer out of the way or outside the vehicle

1 set of glove drying attachments with finger-splaying tubes to allow complete drying
1 set of boot drying attachments with extension tubes for taller boots
1 helmet ball attachment with vents for hats, sports helmets, or neck gators
Dual drying modes

Heat Mode for rapid drying and maximum efficiency
Fan Only Mode for less energy use and delicate fabrics

3-year replacement policy
Quickly dried gear to allow for all-day hunting
How quickly can the MobilDri Portable Dryer really get my gear dry?
This is the ultimate question, isn't it? How well does this portable glove dryer/boot dryer really work? Let me assure you, it works like a dream!
15 minutes…When I have gear that is just damp from the rain, then it is warm and ready to use again. Gloves and hats dry quickly with vented dryer tubes and breathable material.
30 minutes…If I stay out bow hunting all morning in off and on rain. This gives me time to jump in the truck, load the boot dryer, and enjoy my lunch before heading back out.
45 minutes…This longer dry time is when you come in sopping wet and just couldn't come in sooner in case the big one showed up.
Even with the longest dry time needed, the MobilDri is still the best portable boot dryer on the market for your drying needs.
Why do hunters rely on a portable dryer for a successful bow hunt?
Aside from bringing home a trophy catch, the most crucial aspect of a bow hunt is staying warm and dry, so we can do what we love all day.
Waiting all week to finally get to out in the woods only to be brought in by wet gear puts a serious damper on the season…not to mention my gear.
Instead of hauling out totes of extra gear, I pack the easy-to-carry MobilDri 12-volt boot dryer. I simply plug it into my DC power source (cigarette lighter), add the desired attachment, and enjoy my lunch!
By the time I finish eating, my gloves and/or boots are ready for round 2 in the woods.
This thing is compact, fast drying, quiet, fits and sits anywhere I need it to, and comes with attachments to quickly dry all my gear! I don't know how I managed before without it.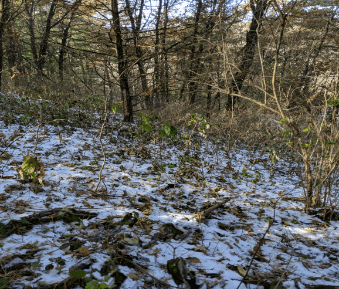 No one wants to stay outside shivering in wet boots while waiting for that perfect shot. Like I used to, many bow hunters return to their trucks and throw hats and gloves on the dash to dry.
That means starting the truck and startling the deer!
When I threw my gear on my dash, I hoped the sun would shine and warm everything quickly. Well, that never gets the inside of my gear dry!
Now, I can attach the glove tubes onto the best glove dryer for cars or trucks available AND keep quiet while they dry. Not only that, but in as little as 45 minutes, I won't be sticking my warm hands in soggy wet gloves when I return to my bow hunting spot.
Keeping my gear dry helps keep me and my gear healthy.
Drying our gear is a health benefit most don't think about. The wet material of the gear most of us use creates a microclimate that holds on to that sweat smell and bacteria we don't see until it's too late.
That microclimate creates 2 problems:
We are uncomfortable when returning to the woods for the afternoon bow hunt.
Even if we don't smell it, animals will surely scent the sweat and mustiness coming off our wet gear, and our chances of a successful bow hunt have now dropped drastically.
Water vapors, like cold air and sweat, produce energy that pulls warmth from our body, lowering body temperature. When we are hot and sweaty, this is a good thing. When we are wet and cold, it steals away our body heat, keeping us cold longer.
Imagine sitting outside in the damp air with wet gloves and boots. That feeling of sweaty socks is really the cold air pulling away from my body, sticking to socks and boots and not my skin. Now my feet are cold and sitting in wet socks and boots.
No one likes that feeling.
Drying gear in real-time not only keeps my body temperature regulated for all-day comfort but also eliminates prolonged exposure to cold and the possibility of growing bacteria.
I keep my hands, feet, and head where most of our heat escapes from first, warm all day with the best portable boot dryer with heat, and get the most out of my uninterrupted bow hunting.
Conclusion:
This industry-leading boot and glove dryer in portability and dry time is an all in 1 compact piece of equipment I can't afford to leave out of my inventory.
It keeps my extremities warm all day for the best bow hunting experience. No one likes to see that big buck walk by only to find cold fingers and rigid joints, making it harder to aim and shoot straight.