Gift-giving is a struggle every year. Whether it is for a birthday, Christmas, anniversary, or a special Thank-you gift, the hunt for the perfect gift leaves me feeling more stress than satisfaction.
While fishing for those ideas through casual conversation, I typically hear things such as…
The hunter already has "all the gear they need" or only uses a particular brand name for gear and clothes, limiting my options.
The fisherman starts casting out fishing lingo I do not always understand, so even if they DO tell me what they want, I might not know if I am buying the right type, model, or product.
I even go on outdoor excursions with the people I buy for and know exactly what they have and use. So now I have narrowed down the list of what NOT to buy…
It all seems so frustrating and lose/lose in the end. I waste money and time on things they will never use; they now have a gift they don't want and will throw in the closet until they can safely re-gift without me asking how they like using a said gift.
This year is the year for WINNING! I found the MobilDri portable boot dryer by VersaDri and got it added to my cart immediately.
Let me tell you why. Not only does it take care of all my concerns mentioned above, but it also takes ALL the guesswork out of what to buy for ANY outdoorsy type friend on my gift-giving lists.
What is the MobilDri by VersaDri?
Only the best portable boot and glove dryer is available today! Easily making it the best choice for any gifting occasion, the MobilDri boot dryer is a 12-volt plug-in dryer that can travel anywhere your fellow sportsman dares to trek!
Like many other products, options are available depending on how much I want to spend on a person and what accessories I want to include.
For instance, the Standard package comes with
The dryer base with a 40# magnet to stick virtually anywhere and fits in a standard-size cup holder
A hook-friendly tab at the top of the portable dryer to hang it instead of sticking it safely out of the way
The 12-volt plug-in quickly powers up any vehicle with a cigarette lighter or other 12-volt power sources.
1 pair of vented tube glove dryer attachments
1 pair of vented tube shoe/short boot dryer attachments
An easy-to-carry drawstring bag durable enough to stay in your vehicle and protect the portable boot and glove dryer
1-year replacement warranty
Then there is the Deluxe package that comes with everything the standard package has, PLUS
1 pair of vented tube boot dryer extenders for those taller boots and longer socks
My personal favorite, and the one I bought for myself (OK, I might have bought it for a friend and kept it for myself), is the Premier package. This one is the ultimate portable dryer that keeps me dry and warm on the go. In addition to everything the deluxe package sends, this bad boy throws in
1 vented helmet/hood/hat dryer attachment
Finally, for the one who truly thinks they have it all, I made the investment for a lifetime and bought the MOBILDRI DUAL DRISTATION BUNDLE. This package indeed provides DUAL power!
2 portable dryer bases
2 glove dryer attachments
2 boot dryer attachments- with 1 pair of extensions for tall boots
2 options for airflow- HEAT or FAN ONLY
2 power options- 110 AC for the shop or site use and the traditional 12-volt plug-in for on the go
2 additional USB plug-in ports for other accessories to charge
1- helmet/hood/hat dryer attachment
I have a friend who practically lives the outdoor sportsman life. He hunts, fishes, boats, you name it, and he is out doing it. He also spends a lot of time out on the ranges for practice and works.
Not only does VersaDri offer the above portable boot and glove dryers, but they also offer a portable docking station. Plug it in at home, on a work site, at a campground, or at the range, and stay dry anywhere.
Now he can dry his extra gear and swap out for warm, clean, dry gear instead of being limited to spending the afternoon in wet, cold gear.
What Makes the MobilDri THE Best Gift This Year?
Versatile Uses
This portable boot dryer WITH HEAT is so user-friendly anyone can enjoy it. I bought one for myself once I saw how much the gift was appreciated and used for every possible occasion.
Any lucky recipient of the MobilDri can take it hiking, hunting, fishing, wheeling, and camping. The possibilities are pretty endless.
It's a glove dryer! It's a boot dryer! It dries it all! It dries hats, scarves, socks, and neck gear.
The best portable boot dryer and the last one they will ever need even comes with two settings:
HEAT to get the job done quickly and warm up gear
FAN ONLY for those delicate fabrics and power-saving needs.
Portability
This unique portable dryer for the car or truck can stay in the trunk for all seasons!
Plug into any 12-volt outlet (cigarette lighter) and dry anywhere- at the campsite, in the truck, or on the UTV while hitting the trails.
It has an easy-to-carry drawstring bag to keep all the accessories together.
VersaDri had portability in mind when they built this boot dryer for truck, van, car, or even UTV usage by making the base compact enough to sit in a standard-sized cup holder.
PLUS, it comes with a scratch-resistant magnetic bottom AND a place to hook the boot and glove dryer anywhere. I stick it to my truck bed while I gear up or hang it from a hook or rope.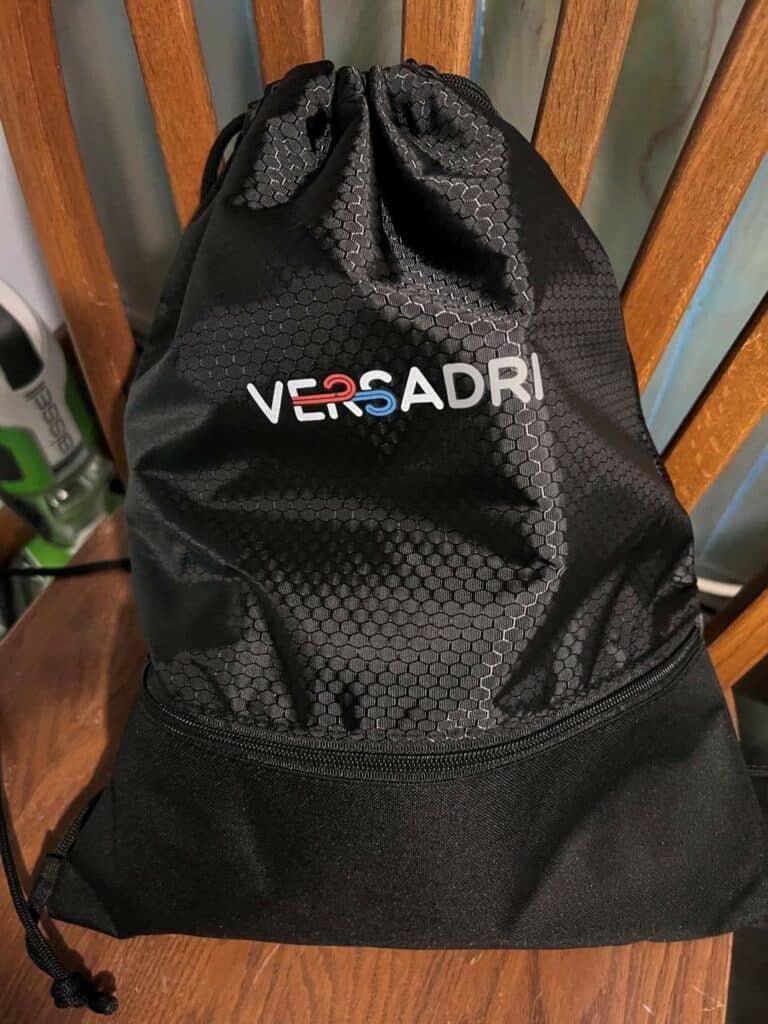 Whatever the occasion for gift giving, I know I can always look to VersaDri for a great idea. Not only can I get one of the packages available, but there are also individual accessories for the sportsman in my life that might already have one.
The MobilDri portable glove and boot dryer is an easy-to-use, 12-volt plug-in drying system. It is compact. I store mine in my truck all year long, and anyone who receives one as a gift can use it for whatever outdoor adventures bring upon them.
Also, Read this blog – Stay Dry and Warm During the Late Season Gun Deer Hunt